Coinbase - A design review
What Is Coinbase?
Unless you've been living under a rock for the past decade, you have probably heard of cryptocurrencies: decentralised digital assets used as a method of making payments and storing wealth. However, for the majority of people (us included) the cryptocurrency scene is too impenetrable and held back by traditional fintech pitfalls. The biggest distruptor in the space, Coinbase, has already begun to change this, creating an app that challenges traditional digital banking design and has made cryptocurrency trading more accessible to the wider public.
To put it simply, Coinbase is becoming to cryptocurrency what startups like Revolut & Monzo are to banking.
Where does it shine?
Education and accessibility
Coinbase's product team has made an exceptionally accessible product. The experience is geared towards education & welcoming new people to the industry, let alone just the app, unlike the more impersonal designs of a lot of other financial services.
They teach the user as they use the app itself, providing tutorials for new users that reward users a small amount of the currency in question, encouraging user progression and exploration. This isn't only beneficial for new users, with the pace that the whole scene develops it's a good way for anyone to stay in the loop, though it's not so intrusive that you have to engage with it.
The Instagram story style interaction of the tutorials doesn't make it feel like a lesson, and behavioural crossovers to popular day-to-day apps like this are what Coinbase have done better than anyone. Things like this are an often overlooked way to make something new feel normal.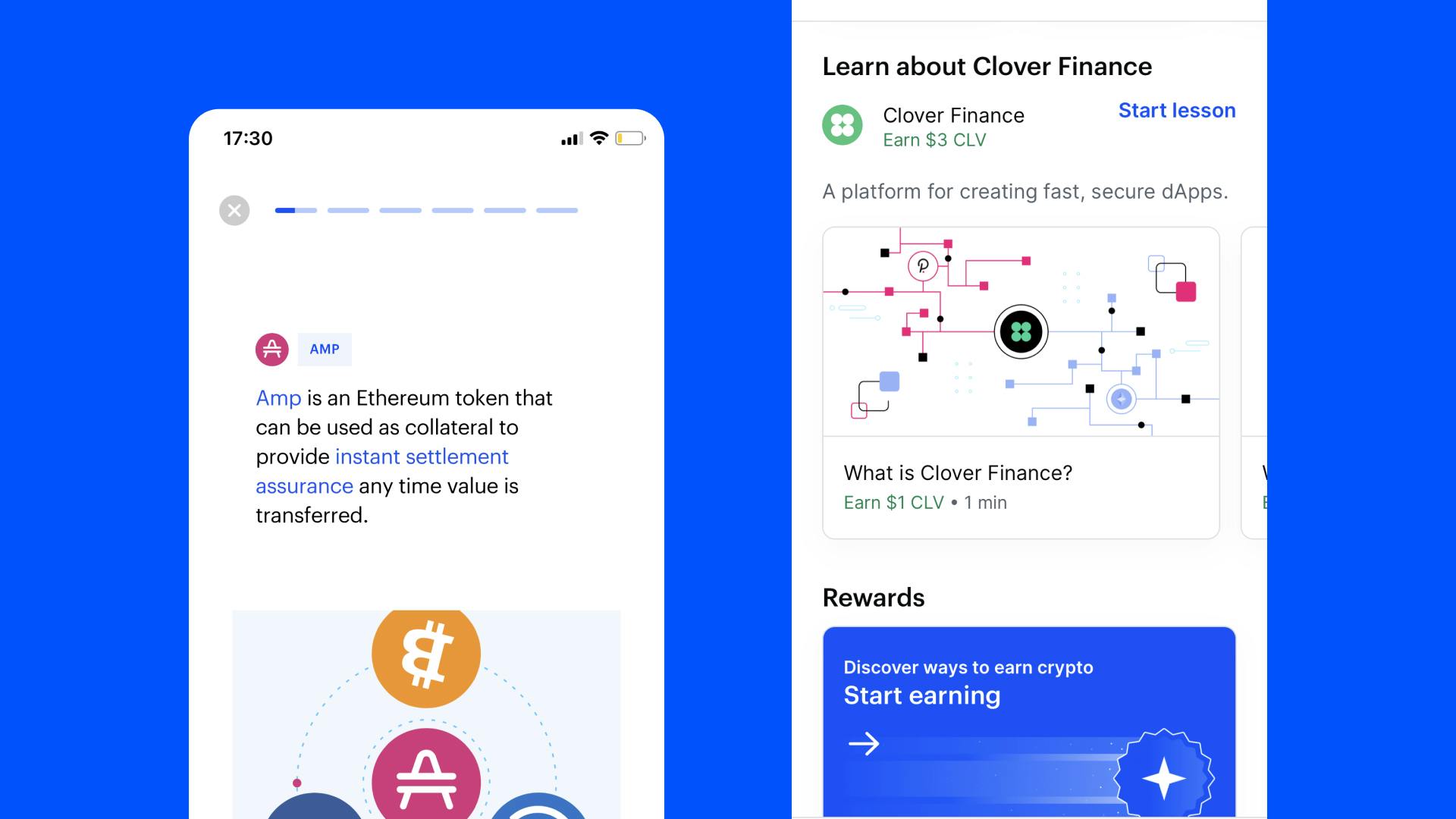 Design System
Traditional crypto (and fintech in general) design has its own distinctive style – one that we and other designers have been trying to change. Overly-detailed graphs are too technical for the average person, with dark & jarring colours, oddly-futuristic styling and data visualisation that can be overwhelming. It is almost aggressively function-over-form and makes different platforms appear interchangeable.
Enter Coinbase. The popular modern fintech aesthetic is there, with concessions to joy and user-friendliness, such as micro-interactions & haptic feedback for positive actions. The app's UI has a clear, cohesive, and consistent style using modular design components, something we've talked about before in our own work here. It ensures that the user experience is consistent and fluid, and that their internal product team can be efficient.
The early foundational design principles of the platform were led by Karri Saarinen, a well-respected designer & founder who was also Principal Designer and design systems lead at Airbnb. Coinbase's current team have continued to innovate with their modern approach to crypto design. They've evolved their brand & UI design, and we're excited to see how they continues to grow & adapt.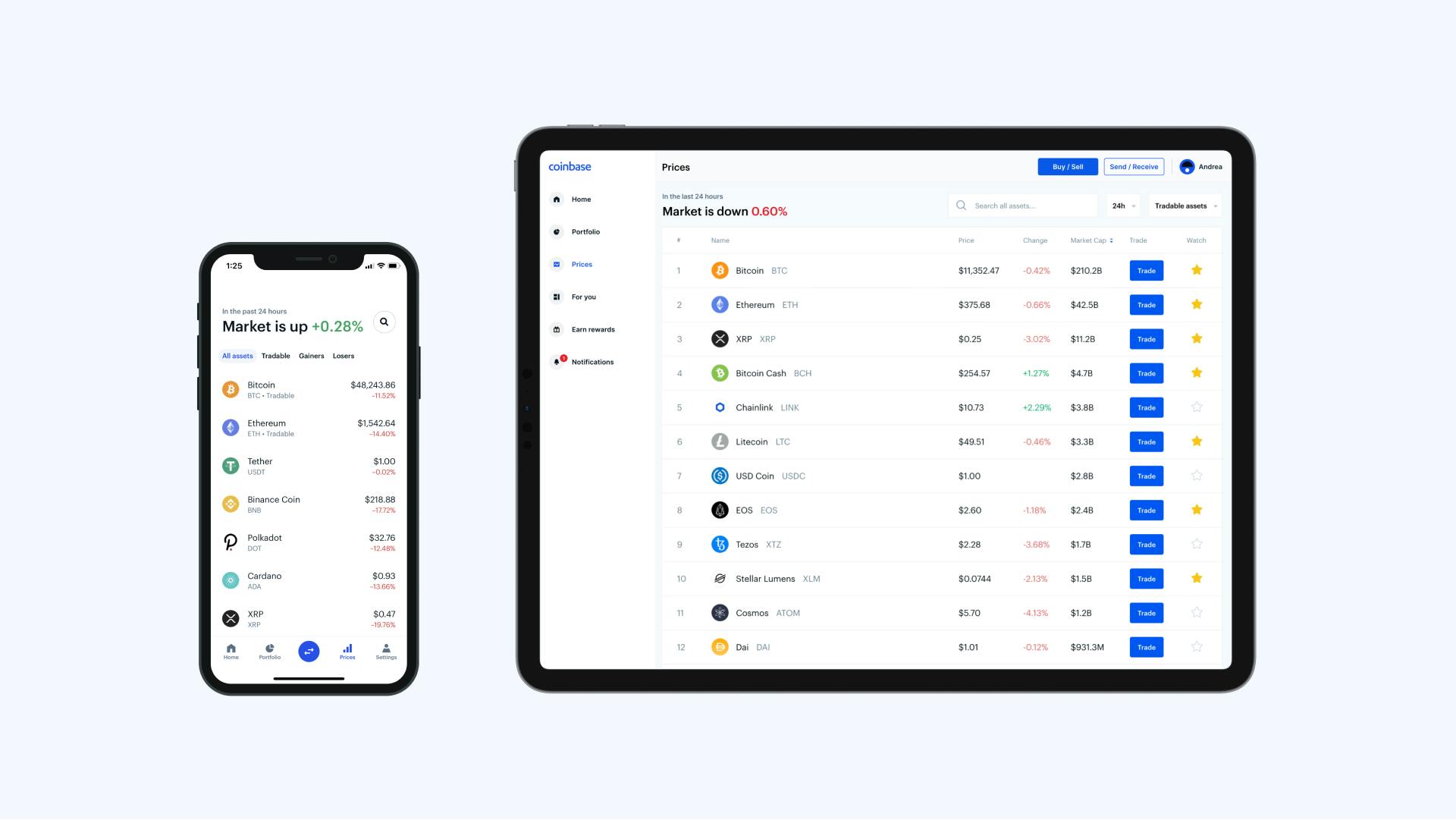 Wellbeing & Control
Coinbase's user-orientated and trust-focused design extends beyond accessible trading, focusing on the user's experience and wellbeing. They have measures in place to protect users from their own emotional impulses; the Take A Break function locks users out of trading for a set amount of time, allowing people to manage the amount of money that they can trade, limiting any potential bad habits.
Another useful feature is the When Is Best To Buy advice section, providing statistics and news that, unlike most other platforms, provides relevant information in a cleaner package. The information presented on the different cryptocurrencies is all kept up to date, too, which is often overlooked when apps integrate their blogs or other content.
The flexibility of notification preferences is also just as useful. Customising notifications is commonplace these days, but with crypto markets being so volatile the ability to pause all notifications for a set period of time is a great way to switch off from the wild swings that can occur. Hopefully one day you'll be able to automatically pause notifications whenever Elon Musk tweets.
Long-pressing your balances hides all references to your balances throughout the app. You might want to check something on the app without being able to see if you're up or down every time, or you might want to hide sensitive information if opening the app in public. This is a minor one but a neat addition all the same, although it'd be lovely to get a bit of haptic feedback like a lot of the other features on the app!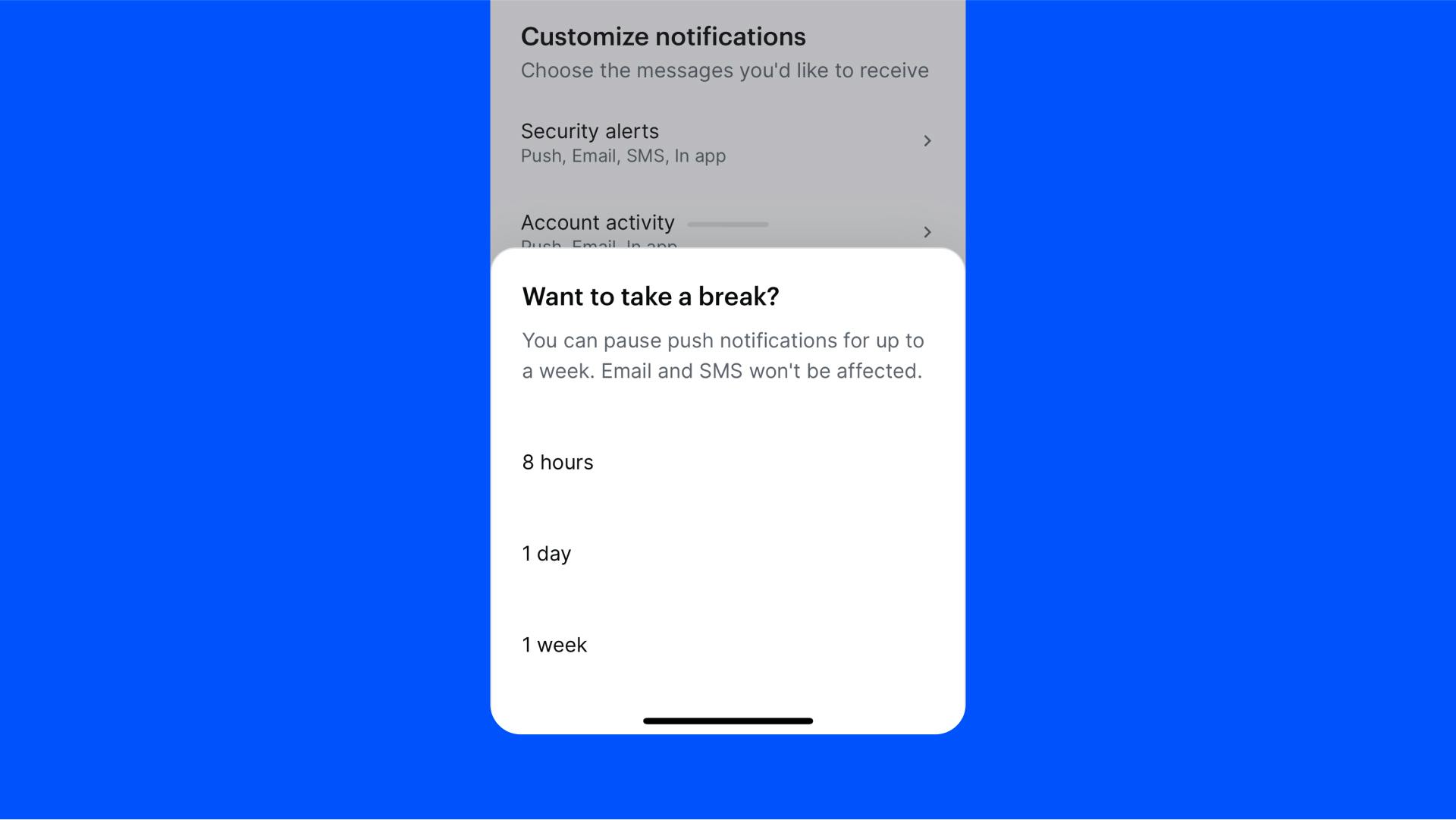 A Good Place To Start
Coinbase is by no means perfect. But, when it comes to providing an accessible and accommodating platform for new and experienced cryptocurrency traders, it's clear to see why they're the top dog at the moment.
Coinbase has been going strong since 2009, showing no signs of slowing down. All this being said, this is not investment or financial advice. Keep yourselves safe, and your wallets safer. We're definitely not trading experts, not even close, we just enjoy good design, especially in the fintech space.
If that's something you need help with, then feel free to give us a shout!
Thanks for reading, here are some other things.
Power to the people: How fintech is making money more accessible
The last 10 years have seen massive changes in the world of finance.  The old stalwarts of the banking industry are being challenged by clever startups
Creating Digital Products For Gen Z? 3 Things You Need To Know
With an estimated spending power of $143 billion, Generation Z are swiftly becoming the new Millennial. Everyone's talking about them, and everyone wants
Honcho Ranks Number 1 in the Insurtech 50
Our client Honcho have taken the top spot in BusinessCloud's Insurtech 50. The list recognises the UK's top 50 Insurtech businesses. That's any startups